The Szekler heritage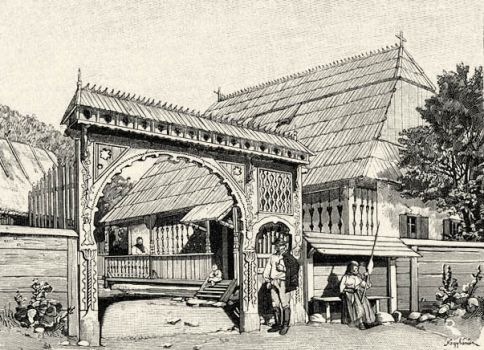 The Szekler came here from different areas of the Kingdom of Hungary and settled on the territory of today's Szeklerland during the last decades of the 12th century and the first decades of the 13th century. They organized their territory into seats.
The main duty of the Szekler was military service, which they performed individually on their own expenses. They were not paying taxes, but with the occasion of the coronation, or the wedding ceremony of the Hungarian king or the birth of his heir each family gave an ox to the royal family as a gift. Due to their legal autonomy they had named Szeklerland the Szekler country several times.
In the second half of the nineteenth century the modernization transformed Szeklerland as well: counties took the place of the seats and privatization occurred. In the twentieth century the Szekler territory was torn apart from Hungary and added to Romania. The fight for the preservation of their national identity had begun.
Houses: The traditional Szekler house originally had only one room for living completed with a porch and a larder when needed.
In old times the living room was the place to live in for the entire family during winter, and it also served as a guest room; but today it is a commonly used place by the entire family. It has two windows: one with a view on the street while the other with a view on the yard. It has a typical interior: in the corners of the walls on the street side and the yard side there is a trunk bench, in front of the bench a table with chairs. In the other corner of the street side there is a bed put along the wall (without windows) with pillows on it. A traditional painted chest is standing at the legs of the bed.
Traditional costume: The Szekler traditional costume's basic material is kersey (a homespun woolen material), hemp, line and sheepskin. Different villages and regions have their own set of motifs. The main parts of the women's traditional costume are: the skirt, the bodice, the apron and the boots. The unmarried women do not wear a headsquare and they embraid their hair into two braids.
The most known elements of the male traditional costume are: skin-tight white baize trousers (szekler tights), semi-hard black boots, and white linen shirt with closed collar. Over the shirt a black, grey or red waistcoat is worn.
In the summer men are wearing a black hat or a straw hat, in the winter a lambskin cap.